Home
Welcome to Quilter's Advantage, LLC! And thank you for visiting our website. We accept MC, Visa, and Discover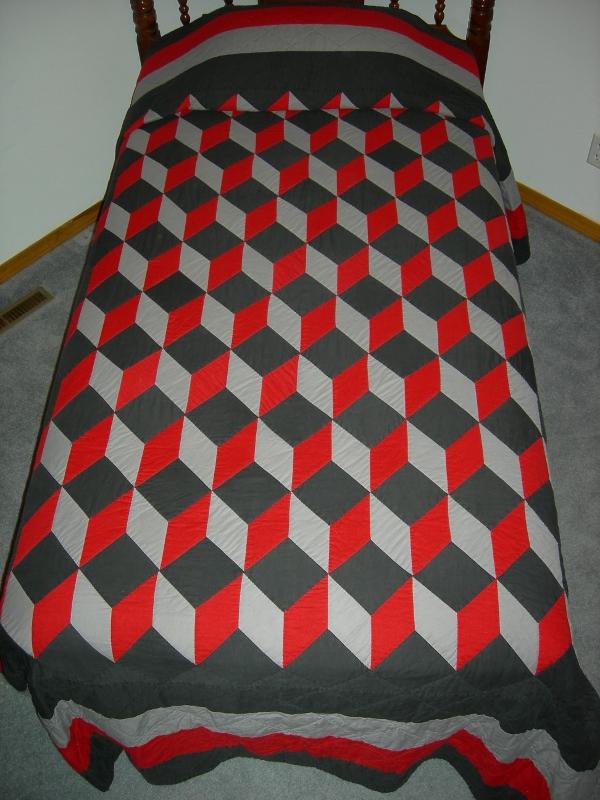 As many of us reflect on our past we all wonder, where did all the time go? Well, I am no different. It feels like it was only yesterday when I was 7 and 8 years old sitting in my backyard hand sewing Barbie clothes. A few years later at the age of 11, I was making my first jumper and continued to advance my skills there after. My mom was an excellent teacher and always taught us that if we were going to do something then make sure you do it right. A philosophy I continue to follow to this day.
My mom started making quilts in the late 80's. My oldest son decided that he wanted red, black and gray for the decor in his room. He also wanted a block pattern on his quilt. Not to be found in the early 90's. So my quilting days began. A friend designed a block for me on the computer. I made templates and cut the pattern pieces out. I then began assembling his quilt with my own directions and became hooked! It took me three years to hand stitch the quilt pattern I traced on it due to my work schedule, son's school activity schedule and Scout Den leader activity.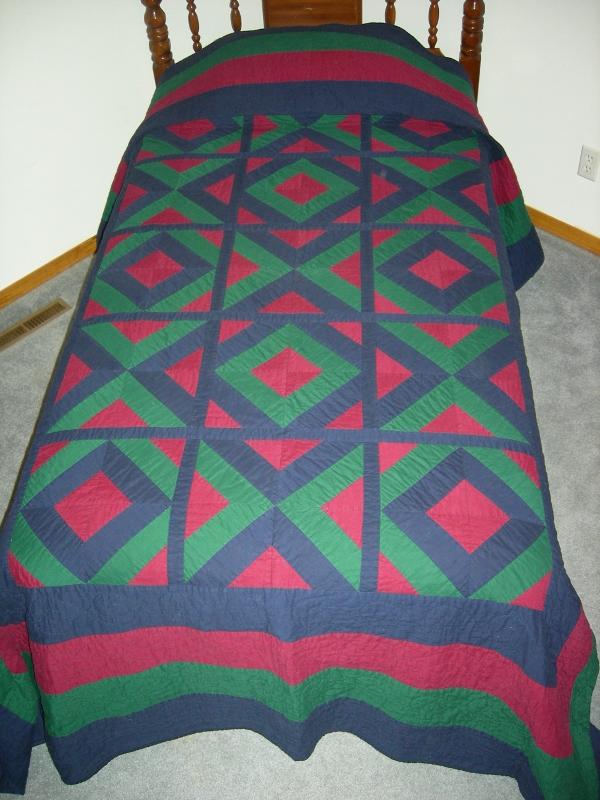 I was lucky with my next quilt, my youngest son chose the King's Cross pattern in navy, green, and maroon. His quilt was much easier and only took me one and half years to hand stitch. By now my mom and I are going to every quilt shop in the area. Buying fabric and kits to make more quilts (sound familiar?). We have been to many shop hops, classes, and project nights.
When I saw the quilting machines at the Sewing Expo in 2004, I could not stop thinking about them. In 2005, I ordered my Gammill and it was delivered in March of 2006. I have been working Quilter's Advantage, LLC part time and on a referral basis ever since. In fact, this past March was my 7 year anniversary for machine quilting.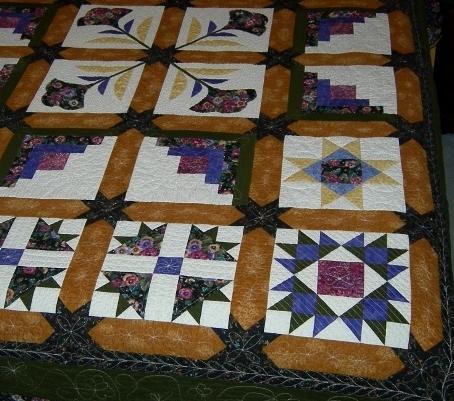 The quilt on the right is from a "learn to quilt" class and the first custom hand quided quilt I quilted. I have also made numerous picture and T-shirt quilts for showers, graduations and weddings.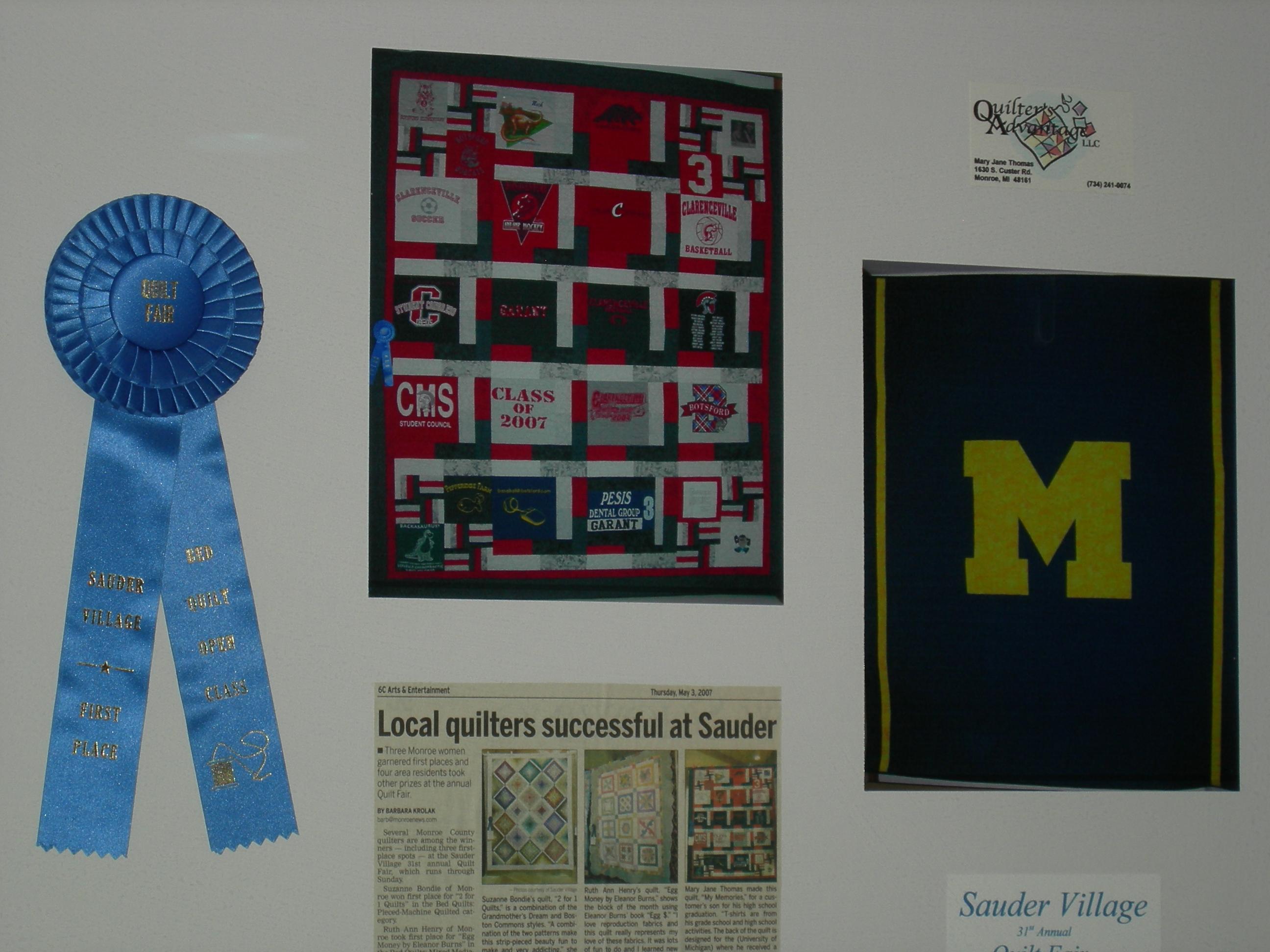 This picture containing the blue ribbon and red/white/black/gray quilt is from an award winning T-shirt quilt I made for a client's son's graduation. He was attending U of M for college so I placed an "M" on the back in maize/yellow with a navy blue background.
Now I am retired and concentrating on my love of quilting. I have purchased a second Gammill and two Intelliquilter computers to run the machines. I am able to design and run programs for pantographs (edge to edge), pantographs with custom borders and custom designs.
I accept quilts through personal consultations by calling 734-682-5578 or by mail at 1630 S Custer Rd, Monroe, MI 48161. If sending by mail please print, fill out and send the order form with your quilt. Pricing and batting are listed on the order form. You are welcome to purchase and send your own batting with your quilt. The only quilt batting I will not use on a customer's quilt is Mountain Mist. Otherwise, I follow any directions given as close as possible. All shipping charges are the responsibility of the customer. At present I have a 1-4 week turn around time for pantographs, 3-6 weeks for custom designs. Don't forget to take a copy of your completed quilt order form for your records before mailing it with your quilt. Please be sure to put your name, address and cell/home phone number(s) on the order form in the event I would need to contact you. I can email the pattern designs for you to choose from also if you write your email address on the form.
Thank you for visiting and have a great day!

1630 S Custer Rd Monroe, MI 48161 734 - 682 - 5578 Mary Jane Thomas/Owner M - Th 9am - 4pm Please call for Consultation